Vertical handover Projects using Omnet++  use different radio access technologies (RAT).When the two cells use different (RAT) or if they belong to different operators, the process is called vertical handover (VHO).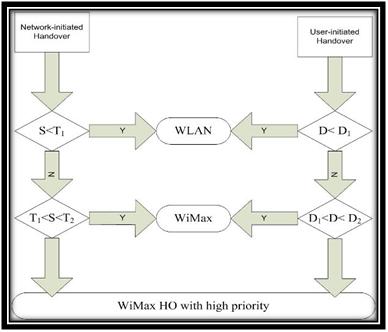 Phases of vertical handover:
Generally three different phases are involved in vertical handover process. There are,
Handover information gathering
Network selection decision
Handover execution
Different criteria considered during VHO:
Received signal strength
Bandwidth
User's perceived quality of service
Error rate
Throughput
Battery state
Cost
User preference for a certain radio access technology etc.
Sample Program using Omnet++ Vertical Handover projects.
vertical handover projects using omnet++
1

2

3

4

5

6

7

8

9

10

11

12

13

14

15

16

17

18

19

20

21

22

23

24

25

26

27

28

29

30

31

32

33

34

35

36

37

38

39

40

41

42

43

44

45

46

void

HandoverRadio

::

handleLowerMsgStart

(

AirFrame*

airframe

)

const

Coord

&

framePos

=

airframe

->

getSenderPos

(

)

;

double

distance

=

getRadioPosition

(

)

.

distance

(

framePos

)

;

double

frequency

=

carrierFrequency

;

if

(

airframe

&&

airframe

->

getCarrierFrequency

(

)

>

0.0

)

frequency

=

airframe

->

getCarrierFrequency

(

)

;

if

(

distance

<

MIN_DISTANCE

)

double

rcvdPower

=

receptionModel

->

calculateReceivedPower

(

airframe

->

getPSend

(

)

,

frequency

,

distance

)

;

if

(

obstacles

&&

distance

>

MIN_DISTANCE

)

rcvdPower

=

obstacles

->

calculateReceivedPower

(

rcvdPower

,

carrierFrequency

,

framePos

,

0

,

getRadioPosition

(

)

,

0

)

;

airframe

->

setPowRec

(

rcvdPower

)

;

recvBuff

[

airframe

]

=

rcvdPower

;

updateSensitivity

(

airframe

->

getBitrate

(

)

)

;

if

(

airframe

->

getArrivalTime

(

)

==

simTime

(

)

&&

rcvdPower

>=

sensitivity

&&

rs

.

getState

(

)

!=

RadioState

::

TRANSMIT

&&

snrInfo

.

ptr

==

NULL

)

snrInfo

.

rcvdPower

=

rcvdPower

;

if

(

rs

.

getState

(

)

!=

RadioState

::

RECV

)

setRadioState

(

RadioState

::

RECV

)

;

{

noiseLevel

+=

rcvdPower

;

// update snr info for currently being received message

EV

<<

"adding new snr value to snr list of message being received\n"

;

if

(

BASE_NOISE_LEVEL

>=

receptionThreshold

&&

rs

.

getState

(

)

==

RadioState

::

IDLE

)

EV

<<

"setting radio state to RECV\n"

;

setRadioState

(

RadioState

::

RECV

)

;