DSR (Dynamic source routing) protocol is a simple and efficient routing protocol. DSR omnet code allows network model completely to be self organizing and self-configuring, without any predefined infrastructure.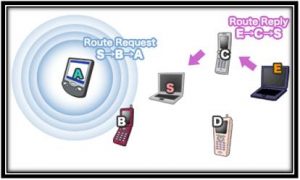 Characteristics of DSR routing protocol:
With the optimization available it's a good choice for an ad hoc network.
Uses source routing.
Provides loop-free routes.
Supports unidirectional links and asymmetric routes.
DSR protocol method used in manet projects.
Route replay message from another host process.
---
Advantages of DSR routing protocol:
Guaranteed loop free routing
Nodes can able to store multiple paths to destination
Support for use in networks containing unidirectional links
Use of only "soft state" routing
Rapid discovery when routes in network change etc.
Sample Output Video of program using Omnet++ DSR Code.
Sample Dynamic source Routing Protocol using Omnet++
Sample code for DSR Routing Protocol using Omnet ++
1

2

3

4

5

6

7

8

9

10

11

12

13

14

15

16

17

18

19

20

21

22

23

24

void

DSRPkt

::

getCostVector

(

EtxCost

&

cost

,

int

&

size

)

{

if

(

size

<=

0

||

costVectorSize

==

0

)

if

(

(

unsigned

int

)

size

>

costVectorSize

)

{

memcpy

(

&

cost

,

costVector

,

sizeof

(

EtxCost

)

*

costVectorSize

)

;

memcpy

(

&

cost

,

costVector

,

sizeof

(

EtxCost

)

*

size

)

;

void

DSRPkt

::

setCostVector

(

EtxCost

&

cost

,

int

size

)

{

setBitLength

(

getBitLength

(

)

-

(

costVectorSize*

SIZE_COST_BITS

)

)

;

costVector

=

new

EtxCost

[

size

]

;

memcpy

(

costVector

,

&

cost

,

sizeof

(

EtxCost

)

*

size

)

;

setBitLength

(

getBitLength

(

)

+

(

costVectorSize*

SIZE_COST_BITS

)

)

;