Omnet++ Social sensor network aims to integrate sensor's and social networks. It allows the actors in the social network to both publish their data and subscribe to each other's data either directly or indirectly. Omnet++ Social sensor network involves above process after  discovery of useful information from such data.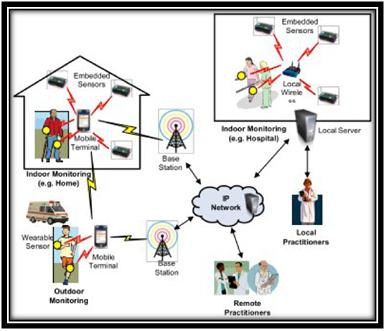 Applications of social sensor network using Omnet++:
Healthcare environments.
Emergency applications.
Multimedia application retrievals.
SSN integrate with IoT.
Medical applications..
Research areas on social sensor network:
Study on traffic management system.
Monitoring applications.
Security.
IoT.
---
Sample Output Video of Omnet++ Social Sensor Network

download code for Omnet++ social Sensor Network Project source code.
Sample code for social sensor network:
1

2

3

4

5

6

7

8

9

10

11

12

13

14

15

16

17

18

19

20

21

22

23

24

25

26

27

28

29

30

31

32

33

34

35

36

37

38

39

40

41

42

43

44

45

int

SSNmsgDescriptor

::

getArraySize

(

void

*

object

,

int

field

)

const

cClassDescriptor *

basedesc

=

getBaseClassDescriptor

(

)

;

if

(

field

<

basedesc

->

getFieldCoSSNt

(

object

)

)

return

basedesc

->

getArraySize

(

object

,

field

)

;

field

-=

basedesc

->

getFieldCoSSNt

(

object

)

;

SSNmsg *

pp

=

(

SSNmsg *

)

object

;

(

void

)

pp

;

std

::

string

SSNmsgDescriptor

::

getFieldAsString

(

void

*

object

,

int

field

,

int

i

)

const

cClassDescriptor *

basedesc

=

getBaseClassDescriptor

(

)

;

if

(

field

<

basedesc

->

getFieldCoSSNt

(

object

)

)

return

basedesc

->

getFieldAsString

(

object

,

field

,

i

)

;

field

-=

basedesc

->

getFieldCoSSNt

(

object

)

;

SSNmsg *

pp

=

(

SSNmsg *

)

object

;

(

void

)

pp

;

case

0

:

return

long2string

(

pp

->

getOldGovernment

(

)

)

;

case

1

:

return

long2string

(

pp

->

getNewGovernment

(

)

)

;

bool

SSNmsgDescriptor

::

setFieldAsString

(

void

*

object

,

int

field

,

int

i

,

const

char

*

value

)

const

cClassDescriptor *

basedesc

=

getBaseClassDescriptor

(

)

;

if

(

field

<

basedesc

->

getFieldCoSSNt

(

object

)

)

return

basedesc

->

setFieldAsString

(

object

,

field

,

i

,

value

)

;

field

-=

basedesc

->

getFieldCoSSNt

(

object

)

;

SSNmsg *

pp

=

(

SSNmsg *

)

object

;

(

void

)

pp

;

case

0

:

pp

->

setOldGovernment

(

string2long

(

value

)

)

;

return

true

;

case

1

:

pp

->

setNewGovernment

(

string2long

(

value

)

)

;

return

true

;