Industrial Internet of Things (IIoT) is the subdivision of the Internet of Things. IIoT is also known as the Industrial 4.0, it can work with multiple Wireless and Ad hoc Networks. Dissertation Topics on Industrial Internet of Things is deals with experimental research by using novel components. Industrial 4.0 is based on interconnection, automation, and real-time data. IIoT helps to analyze the real-time data. Now let us discuss the significant process in IIoT.
How do IIoT works?
IIoT is based on the intelligent device network connected to form the system, it helps to collect, monitor interchange, and analyze data. Every Industrial IoT ecosystem consists of the following requirements,
Intelligent IIoT Devices can Sense, Communicate & Store Information about themselves
Applications that Generate Smart Industry Information from Raw Data
Infrastructure Public or Private Data Communications
For the abovementioned, data communications in infrastructure (public/private), we can prefer to use Intelligent Edge devices, which help to transmit information directly to end-users or server.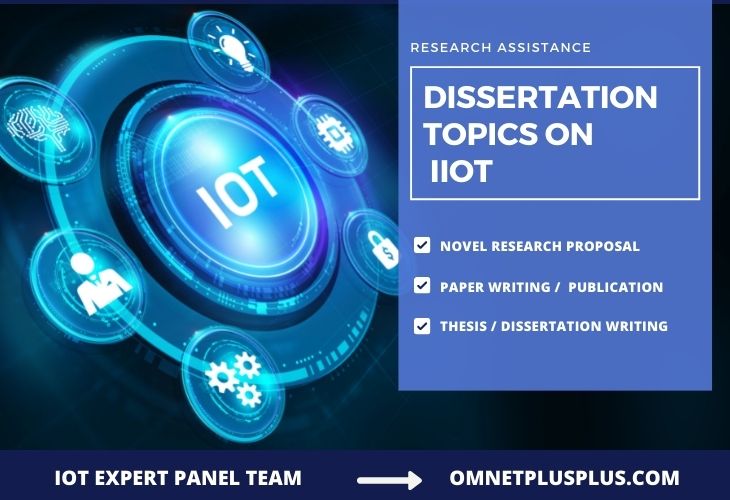 Research Topics in Industrial 4.0
Industry 4.0 intersects IT (Information Technology) and OT (Operational Technology), to create a cyber-physical environment. Let us discuss the significant research topics based on the Industrial Internet of Things,
Quality, Safety and Manufacturing Control
SCADA for Distributed Control Automation
Hardware and Software Security in Industrial Automation
Multivariate PID Model
Noise Reduction in Programmable Logic Controllers
Predictive Maintenance utilizing AI Techniques
There is a lot of Dissertation Topics on Industrial Internet of Things that are coming up from recently used applications. We will add the above as a sample to show our smart help to uplift your skills level.
The main focus of IIoT is to establish the change in features of the industrial revolution. Industry 4.0 maintains a virtual copy of the physical localities. Industry 4.0 allows the interconnection among the industrial machinery, devices, processes, and the people using them across the wide-ranging industrial verticals such as manufacturing and its logistical supply chain, transportation, and healthcare. Hereby, we have listed down the energetic applications based on the Industrial Internet of Things.
Important Applications in IIoT
Oil & Gas Wastage (Fault) Prediction
Energy Management for Air Pollution Monitoring
Driver Behavior Analysis (Smart Car)
Smart Supply Chain (Self Organizing and Optimizing)
Smart City & Environment (Air Quality Monitoring)
Digital Health and Medical Technologies (Healthcare Application)
Smart Power & Utilities (Hard and Soft Power Strategies)
Smart Grid & Smart Metering (Two-way Communication)
Automatic Manufacturing & Factory
Livestock Monitoring & Smart Farming
In general, IIoT is a rich field that shows efficacy in all other fields too. For the most part, we say that we work on the whole from A to Z for your projects. There is a lot of research ideas in the IIoT field but our guide will help to proceed with your research based on Dissertation Topics on the Industrial Internet of Things.
Research Ideas in Next-Generation Industrial IoT
Fog Based IIoT
Fog Topology for Scalability

Data Synchronization and Analysis
Cloud-Based IIoT
Distributed Decision Making

Multi-keyword Search over Multi-Cloud
Smart Sensors Based IIoT
Compressive Sensing and Transmission

Monitoring Use cases like Air Pollution

Network Security & Privacy
For instance, we have mentioned above the sensor based on IIoT Network Security. IIoT is used for manufacturing, supply chain monitoring, and management system and it provides the opportunity to utilize the power of smart machines and real-time analysis. Let us discuss IIoT and research topics based on IIoT.
IIoT Security
IIoT Security is the process of secure work development; it leads to malicious attackers only. But this may be a huge source of traffic, inadequacies in energy use, waste management, and governance among others. Due to all these shortages or challenges, both private and public sectors are ready to invest in smart city technologies.
Although you can find the above information ease, it is hard to choose and find the topics. Thus, we have listed down vital topics based on the Industrial Internet of Things.
Research Dissertation Topics in Industrial Internet of Things
Crime Watching & Alerting Systems
Monitoring Healthcare Service
Urban Computing Security Solutions
Cloud Computing Industrial Security
Managements for Sewage, Water and Electricity
Emergency Management and Infrastructures
Industrial Security (Blockchain Technologies & Communication Protocols)
Industrial Security (Augmented & Virtual Reality)
Smart Applications (Home, City, Building, Consumption, Transportation)
Networking, Services and Infrastructures and Reliability
Intrusion detection using Artificial Machine Learning
At this stage, you will get the top to bottom way out of the Dissertation Topics on Industrial Internet of Things. The above will make you a better scholar or research student. Yet, if you want to become an expert, then you must need a better tutor. In core, we have 100+ online demos and tutors only for the scholars as well as the students. We are ready for a live session with you to clear up all your difficulties. So, don't be bothered with your skills and enrich them with our keen help. Then you will be happy with your project for sure.